School Management -
The school has a Managing Committee for its proper management. The Committee includes the President, the Secretary, Members nominated by the Gyan Bharati Society, Principal, Teachers' Representatives and Guardians' Representatives.
Presently, President is Sri Nandlal Singhania, Secretary is Sri Subhas Gujrani and Principal is Smt. Gopa Barman.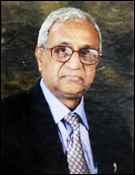 Sri Nandlal Singhania
(President)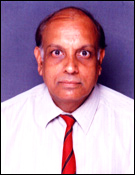 Sri Subhas Gujrani
(Secretary)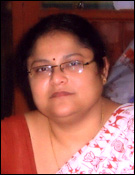 Smt. Gopa Barman
(Principal)
Academics -
The school has got two sections namely Primary Section and Secondary Section. Hindi is the vernacular subject. The school is endowed with well qualified and experienced faculty. At present Smt. Gopa Barman is the Acting Principal Phone No. (033 2530 7341). The students of the school have always maintained a very high academic standard. The results of the school have always been uniformly brilliant, with most of the students getting high grades in different subjects. The medium of instruction is English and subjects are taught only in English from L-K.G. The institution has assiduously sought to provide the best academic atmosphere devoting special attention to the intellectual, social and physical development. A congenial atmosphere is assiduously provided helping the students to excel in different academic fields.
School Hours -
• L.K.G. - 7.40 A.M. to 10.45 A.M.
• U.K.G. & PREP - 6.45 A.M. to 10.30 A.M.
• Class I onwards - 6.45 A.M. to 11.05 A.M.

Arrival time is relaxed by 15 minutes during winter season.
Parents can meet the teachers as per the weekly schedule from 11.10 A.M. - 11.35 A.M. displayed on the office notice board.
Admission Norms -
Students are admitted without any discrimination in regard to religion, caste and creed. Bulk of the fresh admissions is in the L-K.G., while in upper classes fresh admissions are restricted depending upon the number of vacant seats. Admissions are on the basis of admission test and interview as also satisfactory record of performance in the previous school. For admission of students coming from other schools /other States and/or Boards, the usual documents like Transfer Certificate, Migration Certificate etc. are required. For all admissions two copies of passport size photograph of the candidate are essential.

Admission process starts in January and is over by the second week of February. The School session for the Secondary is from January to December. Admission forms are issued on checking the Birth Certificate issued by the concerned Municipal Corporation / Other competent authorities. The age for admission to LKG is maximum 3 years to 3 Years 6 Months as on the last day of February immediately preceding a session.

The Calendar for Admission is as under:
• Announcement is in the last week of November. Distribution of application forms starts at the same time, the price being Rs. 200/-
• Admission closes by the end of February

For any queries in the matter of Admission the Contact Persons is
Smt. Natasha Yagnick (033 2530 8336) who is available from 10.30 A.M. to 2 P.M.
Download Registration & Admission Form
Contact Details -
Gyan Bharati Vidyalaya (English Medium) - Lower KG to Class X
Principal - 033 2530 7341 / +91 98305 26272 / +91 84201 19575
Office - 033 2530 7341